Setting the Time for the 214 Model Accutron
(Bulova's original instructions for setting the time on 214 Accutrons including Spaceview, Railroad & Astronaut Models)
setting the hands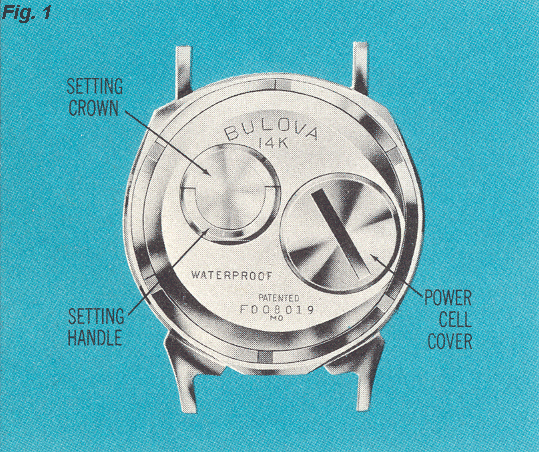 Frequent setting of the ACCUTRON timepiece is not required because of its unusual accuracy. Since the setting crown is seldom used, it has been placed on the back of the ACCUTRON case. Its position is shown in Fig. 1 (left).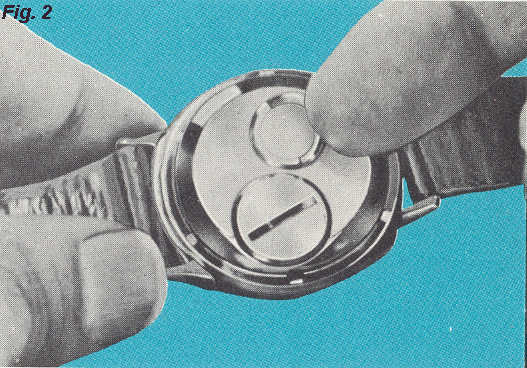 Lifting the setting handle to an up-right position, using the fingernail (see Fig. 2 left) engages the setting mechanism. When the setting handle is in the up-right position, the hour and minute hands may be set by turning the handle in either direction (see Fig. 3)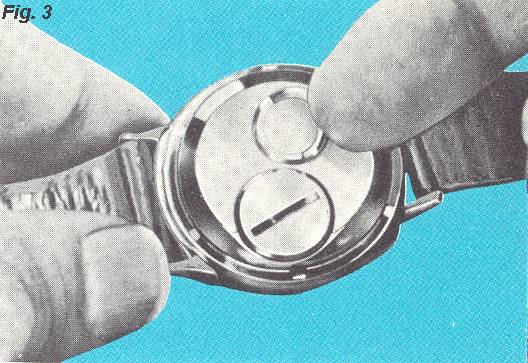 Most ACCUTRON models are provided with a spring which returns the setting handle to the flat position and at the same time disengages the setting mechanism after the hands have been set. After returning the handle to the flat position on models NOT provided with the spring, it is necessary to press in the crown, until a slight snap indicates that the setting mechanism has been disengaged. This is the same as pressing in the crown of an ordinary watch after setting. If the setting mechanism is not disengaged, the hour and minute hands will not turn.
The sweep second hand of the ACCUTRON timepiece continues its rotation while the minute and hour hands are being set, so that an exact number of minutes or hours may be added or subtracted. This feature is particularly useful when traveling from time zone to time zone or when changing to or from daylight saving time. If desired, the second hand can be set approximately on time by removing the Power Cell and replacing it at the proper time. With practice, this can result in a fairly accurate setting. This procedure, although relatively difficult, is the only way to accomplish a result which is not intended as a feature of this timepiece.
This is our addition to Bulova's original instructions: With the use of AccuCell silver-oxide batteries after 2005, it is occasionally necessary to start the tuning fork's vibration again after changing batteries or and abrupt shock that stops the fork. This can be done by holding the watch in your right hand, and lightly tapping (once, maybe twice) on the 9 o'clock edge of the watch case.